We believe knowledge is power. When thinking ahead to a condo common elements refurbishment, it is useful for Property Managers and Board members to be educated on proper interior design terms. Our interior design glossary is jam-packed with information. After reading this, you'll be speaking our language!
Accent Colour: A complementary colour used in a small quantity to create an emphasis, contrast or rhythm in a room.
Accessible Design: A type of interior and exterior design that specifically considers the needs of people with disabilities. Accessibility laws regulate design-related issues including appropriate signage, switch and outlet heights, doorway and hall clearance widths, and more.
Acoustic Tile: A type of ceiling tile that improves and aids room acoustics. Can be attached directly to a ceiling or used as a drop ceiling to provide effective noise control. Offered in a wide variety of materials, sizes, and designs.
Acrylic: A synthetic plastic, fabric, fibre or paint that's created from acrylic acid. Advantages include its natural transparency, moderate strength and ability to be dyed.
Artisan Style: A unique style that reflects an artisan's expertise, tradition, and/or passion.
Balance: The arrangement of a room's elements around an epicentre to create a visual equilibrium.
Ballast: Regulates the current to lamps and provides adequate voltage in a fluorescent lighting system. Also used to describe a type of material that provides stability to a structure
Bamboo Turning: A process used to create faux bamboo. Popular in the 19th century.
Bar Stool: A stool that occupies minimal space and has a seat height of about 30". Frequently used in kitchens and bars.
Bench: A long seat made for several people. Constructed out of materials including wood, metal and concrete.
Cabriole Leg: A popular furniture leg commonly found on 18th century furniture. The vertical support's upper arc is convex and the lower is concave.
California King: A popular bed size that is 72 inches wide and 84 inches long. The longest of the standard mattress sizes.
Canape: An elegant French sofa that seats three people. Features carved wooden legs and upholstered seats, back and armrests.
Ceiling Tile: A ceiling covering placed in an aluminum grid that's constructed of lightweight construction materials including plastic, metal, fibreglass and even cork. Can be used to improve a room's acoustics or aesthetics; less commonly used to provide some thermal insulation.
Chair Rail: Traditionally used to protect walls from damage caused from the backs of chairs; now commonly used as decorative room accents. Runs parallel with the baseboard and is located 24 to 72 inches above the floor. Also known as a dado rail or surbase.
Cladding: A protective barrier between a building and external elements that helps regulate the interior atmosphere and improve a building's aesthetics. Some popular types include stone cladding, wood cladding and brick cladding.
Common Door: A panel that covers an opening to a building's common areas including the gym, party room and stairwells. Often made with different materials than suite (or resident) doors
Cornice: A horizontal decorative moulding located along the top of a building or furniture element.
Crown Moulding: A moulding that gracefully flares out to a finished top edge and is normally located along the seams where the ceiling meets the wall. Also used to cap pilasters, cabinets and interior and exterior cornice assemblies.
Davenport: A term widely used in the 1950s and 1960s to describe a type of seating similar to a futon-style sofa. Named after the Massachusetts manufacturer, A. H. Davenport and Company.
Design: Describes the aesthetics and function of an object. Also used to describe a plan that integrates objects or systems in a space.
Dovetail: Extra durable construction made when a series of pins and tails interlock with each other to create a trapezoidal shape. Commonly found in drawer construction.
Drop Ceiling: A type of ceiling panelling that is suspended below the main (structural) ceiling in both residential and commercial settings.
Dying: Applying dyes or pigments on fibres, yarns and fabrics to quickly achieve a new colour.
Early Renaissance: A period featuring great creative and intellectual activity from 1401 – 1495 that started in Italy. Characterized by symmetry, proportion and regularity in design.
Ergonomic: When efficiency and human comfort are considered in a design. Commonly found in office furniture.
Escutcheon Plate: A flat metal plate used for protection and ornamentation around a functioning, non-architectural door furniture item such as a keyhole or light switch. Also commonly used in conjunction with plumbing, mechanical and electrical components and fixtures around pipe penetrations.
Evolute: The resultant shape when the centre of curvature of each point on a curve is drawn. Commonly used to decorate friezes and bands.
Eyelet: A specific type of hardware that is used in conjunction with brass rings to reinforce holes. Can also be used for decoration such as embroidery.
Faceted: A surface cut into specific angles to maximize the reflection of light.
Filament Lighting: An aesthetically appealing type of lighting produced by heating a small filament inside a light bulb.
Finish: The nature of a surface of an item and defined by the lay, roughness and waviness. Used for moisture protection or to create a specific colour or texture. Can be produced using paints, stains, fabric treatments and more.
Fire Exit: A designated exit in a structure used in the event of emergencies including fires. Fire exits help create expedited evacuations and provide alternative routes if regular exits are blocked.
Fresco: A painting technique created when combining water to dry-powder pigment before applying to wet plaster.
Garland: A decorative arrangement of flowers, wreaths or other materials.
Gesso: A quick-drying art medium that produces stiff, slightly textured surfaces that are ready to accept acrylic paint.
Glue Down: A flooring method that uses adhesive to adhere dryback luxury vinyl flooring to its base. A stronger finished floor is created that doesn't allow for movement or slight deflection, yet maintains its natural characteristics.
Grain: The apparent texture in a cut surface of wood. The resultant pattern of wood fibres can be described as 'with the grain,' 'against the grain,' 'across the grain' or 'end grain.'
Guimpe: A type of narrow, decorative trim made of silk, wool or cotton used on upholstered furniture and curtains.
Halogen: An incandescent type of lighting that consists of a halogen gas around a filament. Known for having a higher efficiency, longer lifetime and better quality of light than regular incandescent lighting.
Hardwood: A type of wood formed from broadleaved trees such as oak, ash or beech. Compared to softwood, hardwood has a more complicated structure and consequently grows much slower.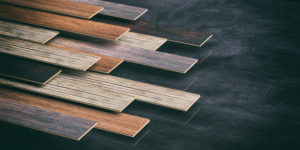 Hue: A discernible colour or shade that is dependent on the dominant wavelength. Incandescent: A type of lighting produced when a wire filament is heated until it begins glowing with visible light. One of the most affordable and popular types of lighting used in households.
Inset Tile: A tile with a unique design that's used to add interest to the surrounding body of tiles.
International Style: An architectural style that originated in Germany's Bauhaus School during the 1920s and 1930s. Steel and glass were used to create simple designs void of applied ornamentation.
Italian Finishing: An Italian-born luxurious bed lining finishing technique that removes fibres and smooths the surface of individual, high quality, single ply yarns.
Jabot: A window treatment that has decorative, vertical pleats on either side of a swaged valance.
Jacquard: A highly textured fabric such as brocades and damasks featuring patterns that are woven rather than printed.
Japanning: A finishing technique that involves heat applying and polishing a heavy black lacquer to create smooth, glossy finishes.
Jute: Coarse, durable threads produced from spun vegetable fibres.
Kas: A large, wooden cabinet of Dutch origin developed in the 17th Century to store clothes and linen.
Klismos: An ancient Greek chair defined by a shoulder-height curved back and sabre shaped, outcurved legs at the front and back.
Knit: The method of interlocking loops of wool or other yarn to create a softer, more flexible feel than other fabrics.
Knot: In wood, the visible imperfection that appears in the trunk when branches die. Commonly found in knotty pine furniture.
Lacche: An Italian term used to describe all painted decoration applied to furniture.
Laminate: A synthetic material that's commonly used to mimic wood. Applied under a clear protective layer to surfaces of cabinets, tables and more.
LED: A light-emitting diode (LED) is a semiconductor light source that creates a visible light that's 90% more efficient than incandescent light bulbs. An LED's brightness slowly dims over time rather than burning out.
Limewash: A mineral-based finish that has a chalky, weathered texture. Used for centuries in Europe before paint was invented. Now commonly applied to outside walls.
Lurex: A type of metallic-looking yarn or fabric constructed from synthetic film.
Look for Part 2 of our Interior Design Glossary later this summer.
Want to learn more about we can make your vision for your condominium's common areas a reality? Contact us today to learn more about our services!
By Sarah McKenzie