Your condo building's interior hallways can be so much more than a means of travelling from one space to another! Effectively use design elements to help create appealing corridors that add value to your building. The following ideas outlined in our Corridor Pinterest boards provide you with unlimited ideas when it comes to renovating your building's hallways.
Corridor Refurbishment
Breaking up the lengthy monotony of corridors can be achieved with an effective corridor design. Incorporate traditional, transitional or contemporary concepts to make your corridors much more than simple residential hallways.
Elevator Foyers
As an extension of your building's corridors, elevator foyers can go beyond their practical means. Choose design finishes that differentiate these lobby spaces from the rest of the hallway and add to the corridor's aesthetic appeal.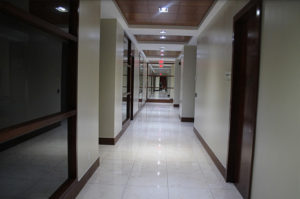 Carpeting
Due to showing the most wear and tear, a hallways' flooring is typically one of the first areas to redesign in a building. Carpet is often chosen due to its ability to withstand moderate foot traffic, limit sound transmission and be easy to clean and maintain. Carpet tile designs are available to generate a sense of rhythm throughout the corridors.
Corridor Doors and Trim
Welcome each resident home with a well-designed formal entry to their living space. Incorporate paint, lighting and more to create corridors and entryways that make enduring first impressions. Select unique door number plates to highlight each residence's unit.
The Bottom Line
For more inspiration about redesigning your building's corridors, follow our Pinterest boards. Ready to make your corridor renovation ideas a reality? Contact us to design a schematic that's based on your building's style, your residents and your budget. Inquire about our different Design packages today.
By Sarah McKenzie